Troxel Hall
Iowa State University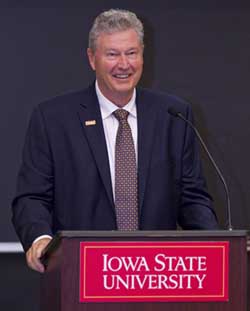 Douglas D. Troxel
President & Chief Executive Officer
Change Happens Foundation
Dedication ceremonies for Troxel Hall, Iowa State University's newest classroom auditorium, were held on August 30, 2013. Named in honor of Douglas D. Troxel, an ISU alumnus and President and CEO of the Change Happens Foundation, the 400-seat classroom auditorium optimizes the quality of instruction and student learning in introductory courses in the physical and social sciences.
Featuring leading-edge technology, the facility provides new lecture space at a time when the university is flourishing and enrollment is steadily increasing. Nearly every undergraduate will experience the advanced learning opportunities that Troxel Hall offers during their time at Iowa State.
Troxel Hall features a multi-media environment in which faculty may employ the most innovative methods and resources to enhance their teaching. Equipped with cameras, an audio system and television projectors, it also contains a full-scale chemistry lab for demonstrations. Located behind the lecture hall, the lab is equipped with everything a faculty member needs to illustrate their lessons.
Giving it the ambiance of a much smaller classroom, the spacious lecture hall has free-moving seats designed so students can swivel their chairs to interact with each other during class. A post-lecture area, featuring whiteboards, desks and other learning materials can be used by faculty and students to go over lecture material one-on-one after class has dismissed.
---
View photo gallery
---
Troxel Hall incorporates the latest innovations in architectural sustainability to reduce its carbon footprint, earning it LEED gold certification. Beneath the brick pavement outside of the building lies an underground pavement support system, called Silva Cells. These cells are made of stacked frames filled with loose soil and are covered with permeable platform decks. This design allows tree roots to grow, prevents soil compaction and filters and absorbs storm runoff.
The building sports a "green roof," planted with growing vegetation to help with storm water control, which helps lower mechanical and electrical costs. The south and east sides of Troxel Hall feature a glass wall and energy-efficient glass windows, which provide natural light for students in indoor waiting areas.
A facility that will serve generations to come, Troxel Hall fulfills Iowa State alumnus Douglas Troxel's vision to create "a high-tech center for active learning on the beautiful and world-class Iowa State campus."